Reconstruction of Bundesliga stadium with Xella building materials
Ytong, Multipor and Hebel products are used in the reconstruction of the home of Karlsruher SC, a German 2. Bundesliga team.
23 June, 2020
Karlsruher SC have played their home games in the Wildparkstadion north of the city center since 1955. Since 9 December 2019, the Wildparkstadion has been under reconstruction. The planned completion date for the current renovation work is set for 2022. Several Xella building materials are used during the conversion work. For example, the rear walls beneath the stands were lined with over 1,000 cubic meters of Ytong blocks and the stands were insulated with Multipor on the underside. The catering areas are also covered with over 550 cubic meters of Hebel roof panels.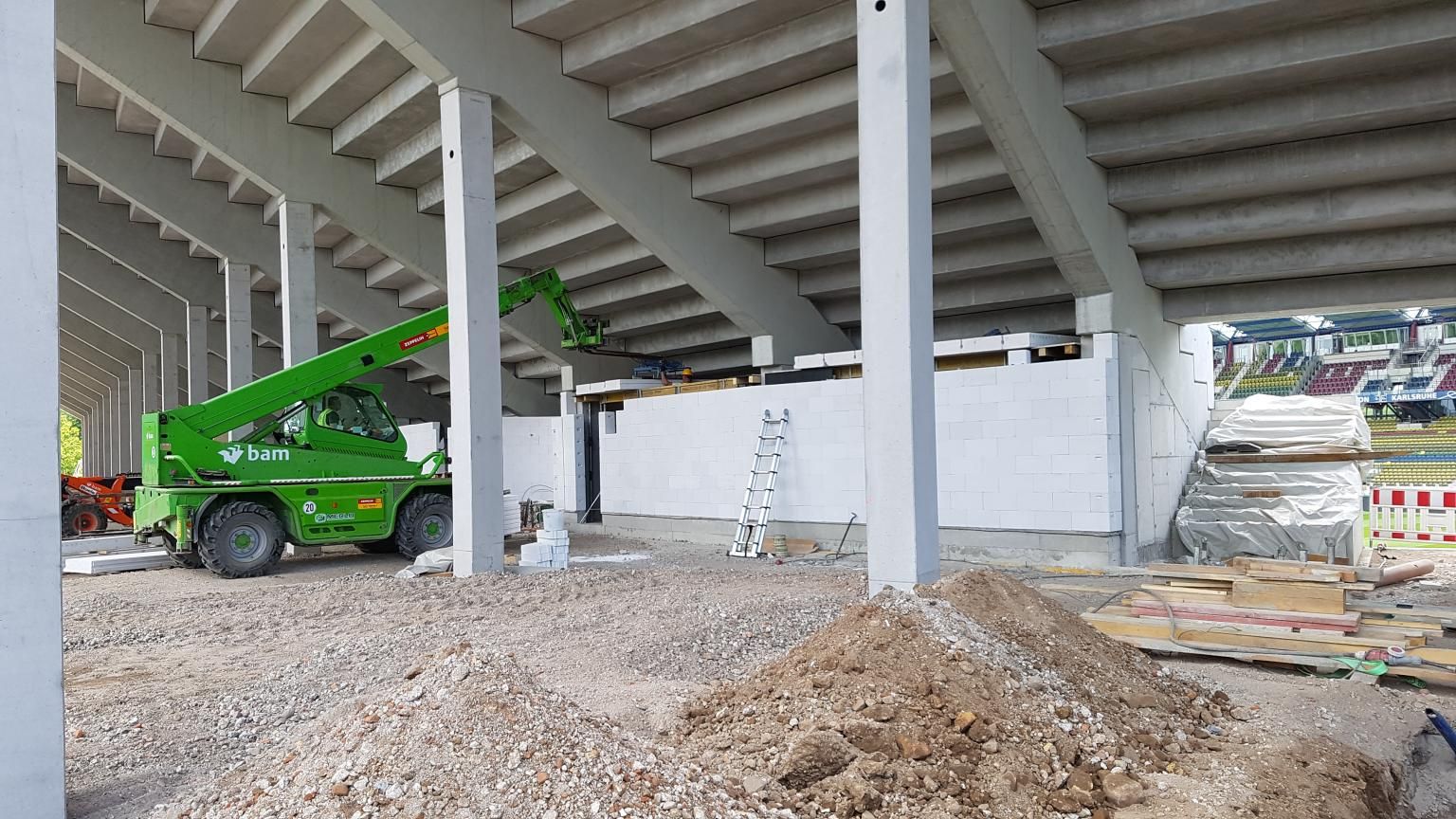 However, this is not the first renovation that the stadium has undergone. With six renovation works and fluctuating capacities between 15,330 and 55,000 seats, it is probably one of the most variable stadiums in the history of the Bundesliga. Most alternations had to be done due to changes in regulations when relegating to another division.

The site where the stadium is located had been used since 1921 by KSC's predecessor club FC Phönix, who won the German championship in the early 20th century. Especially in the 1990s, this stadium experienced many memorable moments. In the 1993 European Cup, for example, the then leaders of the Primera Division – FC Valencia – were beaten 7-0 after KSC lost the first leg, and in the same year, Oliver Kahn and Zinédine Zidane faced each other here. Francesco Totti's AS Rome also came out on the short end in this stadium a few years later.

A video of the construction site can be found on KSC's Youtube channel here.

We wish the KSC much success in the new venue after completion!
Sustainability is an integral part of our corporate strategy and our understanding of the future. To promote and implement greater sustainability throughout the construction industry, we rely on a wid

View more

Cities and their surrounding areas are growing. At the same time, our society is changing - older people are moving to the city, migration, growing numbers of single households. This poses challenges

View more

How we enable the ideal delivery and supply of our products

View more
2021 Xella International. All rights reserved.